BOWLS \
VASES
\ LIDDED VESSELS \ PLANTERS \ PLATTERS \ IKEBANA CONTAINERS and CANDLEHOLDERS
VASES
It is always a pleasure to have a vase on hand. It has taken me some time to develop a collection that works well with most floral arrangements. Even if you believe that the flowers are the main event and that the vase need not be attractive--try putting a bouquet of flowers in a florist's glass vase and then compare with one of mine and I think you'll be convinced.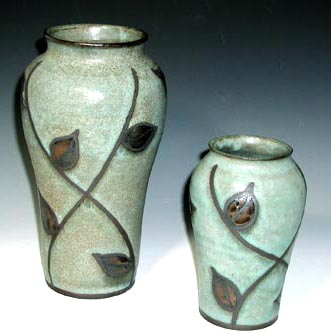 CLIMBING LEAF VASES

Each of these vases is decorated freehand so that no two are exactly alike. The interplay of leaves and branches suggest the harmony and balance of nature. They are lovely on their own or complementing your floral arrangement. The large vase ($78) is approximately 9.5 inches tall and the small vase ($38) is approximately 6.5 inches tall. You can get something in between as well. Just ask me.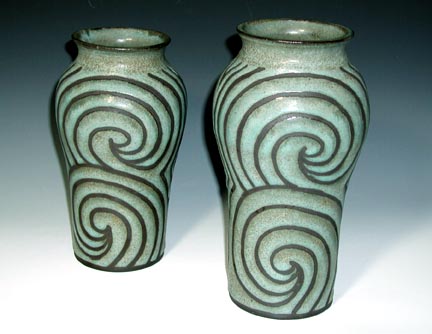 SWIRL VASES
This classicly simple design will complement any flower arrangement. The large vase ($78) is approximately 9.5 inches tall and the medium vase ($48) is approximtely 7.5 inches tall. A small vase (not shown) is 6.5 inches tall and is priced at $38.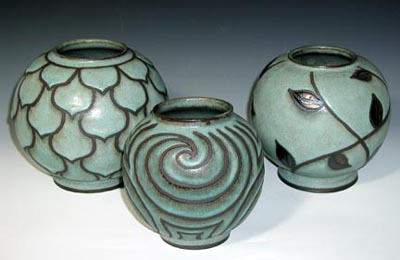 GLOBE VASES
Globe vases are terrific for centerpiece flower arrangements. Five or six short stemmed blooms create an attractive centerpiece without impeding conversation across the dining room table. Shown here are a large lotus design globe vase ($62), medium climbing leaf globe vase ($54) and a small swirl design globe vase ($44). I also make large ones than these. Just ask me!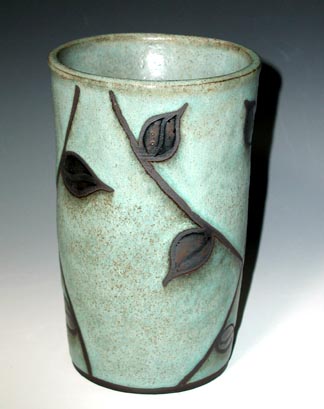 WINE HOLDER VASE.
Some people buy this as a vase. Some buy it to make an attactive presentation for a wine bottle, Still others use it to hold utensils alongside their cooking surface. What will you use it for? Approximately 8 inches tall, it is $62.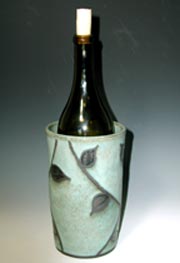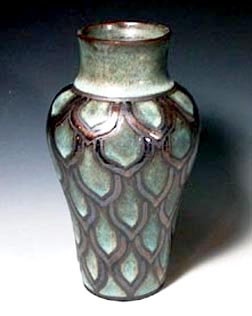 ROYAL LOTUS VASE.
This 10" vase has a rich look to balance a sumptuous bouquet of flowers or just to grace a table top or shelf without benefit of adornment.
In the arts & crafts tradition it is reminiscent of the ceramic arts of the East without appearing ethnic. It is $120.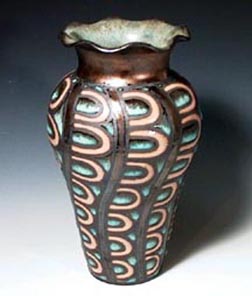 FEATHER VASE.
In peach, cerulean and gold, this vase is fun and elegant. And for those who prefer a stronger color statement I can substitute a red or plum glazefor the peach glaze.
It is approximately 10" tall and is priced at $150.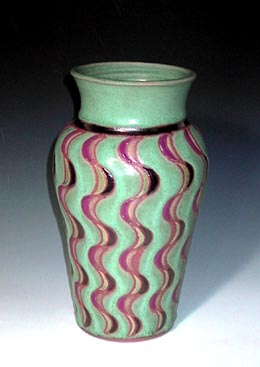 MAYPOLE VASE.
A brighter more colorful look with plum, gold, green, yellow and cerulean glazes on a red stoneware clay.
I just loved the idea of a bouquet of flowers sitting atop a maypole to celebrate the coming of spring--or a May wedding.
This vase is approximately 11" tall and is $120.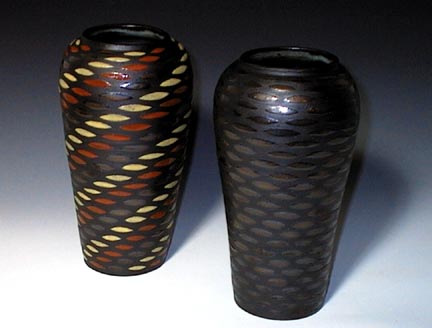 GALAXY VASES.
These vases make quite an impression with their intense pattern and precise detail, The all gold design is a popular choice because it is compatible with so many environments from Asian to contemporary to traditional. The highly patterned red, yellow and gold is really a standout--especially when paired with a selection of yellow or red roses. They are approximately 10" tall and are $180 each.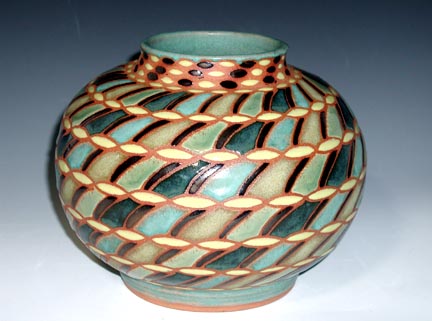 THE TISKET-
TASKET VASE.
If you love the look of a basket but need a vessel which will hold water. this vase is for you. The varying shades of blue , green and yellow give this vase a quiet, meditative aspect despite its bold pattern. It is 7'' tall and 8" in diameter and is $250. There is a companion piece to this--the TISKET-TASKET PLATTER.
Home \ Online Gallery \ Purchase Pottery \ Studio Visits \ Artist Bio \ Technical Notes \ Craftsman Tradition \ Shows & Galleries \ Join Mailing List \ Links